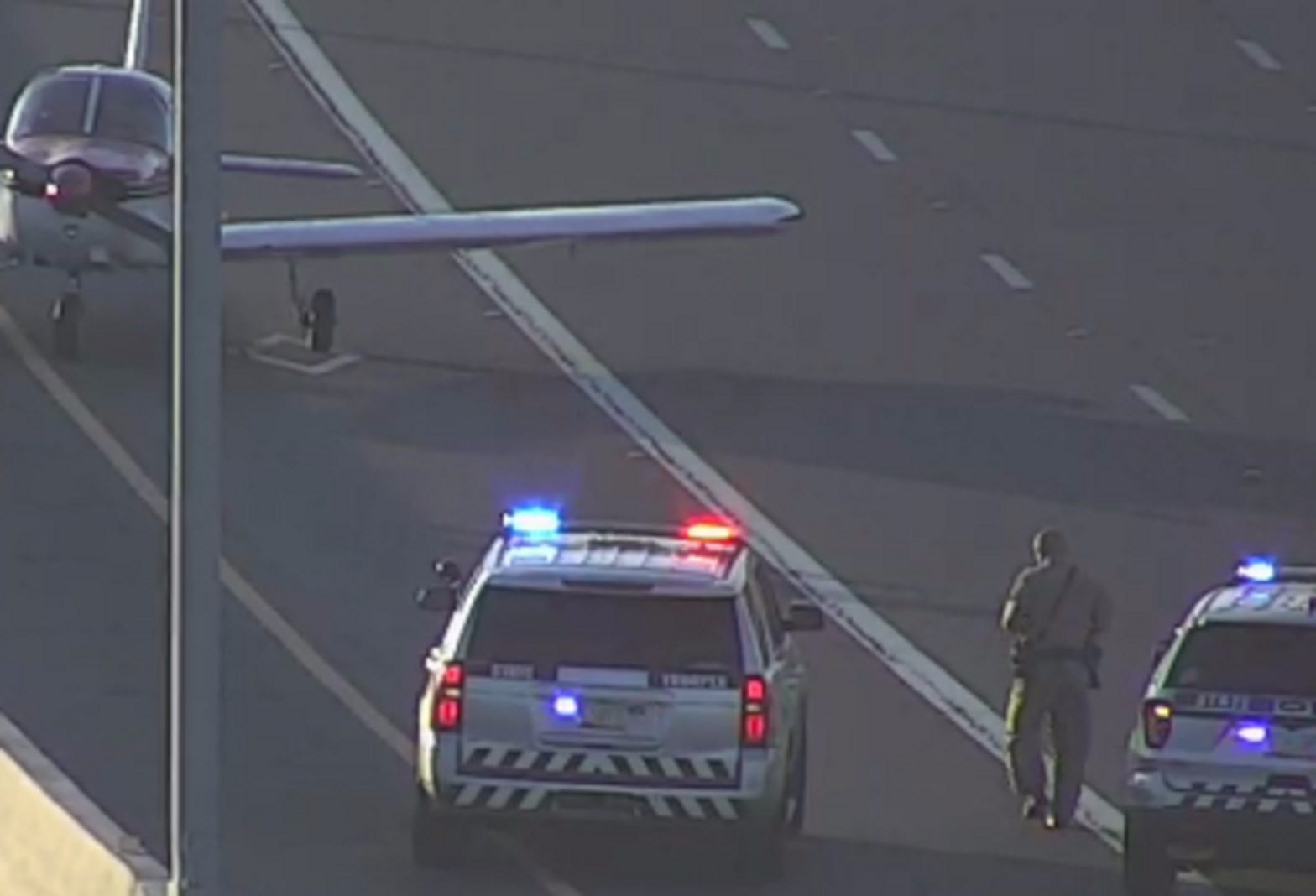 A small plane has landed in the middle of the freeway in Arizona, briefly blocking off the high-occupancy vehicle (HOV) lanes.
The small aircraft landed on Loop 202 near Higley Road in the Mesa-Gilbert area at around 6:10 a.m. on Tuesday morning.
The Arizona Department of Public Safety said in a statement to Newsweek that a single engine Piper Cherokee plane was in a holding pattern to land at Falcon field when it experienced mechanical issues.
The pilot was then forced to make an emergency landing in the eastbound lanes of Loop 202 east of Higley.
The plane landed in the HOV and first lanes, with the right wing coming into contact with the median wall, and left wing striking a cement truck traveling in the eastbound lanes, causing minor damage.
The male pilot and female passenger were not injured.
Traffic cameras showed the plane on the freeway.
Video from the scene shows that the aircraft was eventually moved onto the shoulder of the freeway after landing with the assistance of state troopers, freeing up the lanes.
Air Transport responded to the landing and helped remove the plane from the scene.
"We're are relieved there everyone walked out of the aircraft," The Arizona Department of Transport tweeted. "Never a dull day on Arizona's highways!"
The incident occurred after a small plane crashed in Chandler near the Loop 202 freeway and McClintock Drive on Sunday.
One person was injured after a single-engine Cessna 172R plane clipped power lines while approaching Stellar Airpark in Chandler, reported The Arizona Republic.
That aircraft then crashed into an overpass at the Loop 202 freeway at about 11:10 p.m. The pilot, a 23-year-old woman, suffered non-life-threatening injuries as a result of the crash.
"I noticed lots of lights going by all at once, so I went to check it out," one local resident told Fox 10 Phoenix.
"I saw the tail end of a plane sticking out of the off ramp of the freeway. It was the strangest thing I've ever seen."
Parker Nothrup, chair of the Flight Department College of Aviation at Embry-Riddle Aeronautical University, believes pilot error or aircraft problems caused the plane to go down.
"From the aircraft, if it had lost some power or the engine had quit, the pilot would have been trained to land at the nearest landing surface," said Nothrup. "Gliding is unpowered so maybe they didn't quite get far enough."
The plane was said to be approaching the privately-owned Stellar Airpark in Chandler before it crashed into the overpass.
"The way Stellar Airpark is set up, there is some unimproved land that has no buildings on it just south of the airpark," Nothrup said.
"When you're flying over dark terrain or unlit terrain at night, it can create an illusion or a tendency for pilots to fly lower than they would normally, which would expose them to obstacles from the ground."