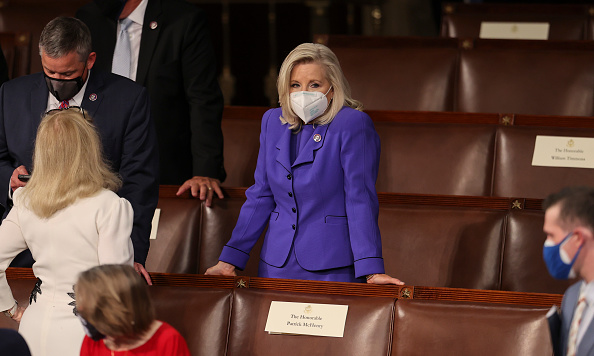 Representative Liz Cheney slammed former President Donald Trump for declaring the 2020 presidential election "the big lie" on Monday.
"The 2020 presidential election was not stolen," Cheney tweeted. "Anyone who claims it was is spreading THE BIG LIE, turning their back on the rule of law, and poisoning our democratic system."
Moments earlier, Trump released a press statement stating, "The Fraudulent Presidential Election of 2020 will be, from this day forth, known as THE BIG LIE!"
Cheney's criticisms come as tensions continue to rise among GOP leadership in the lower chamber of Congress.
The House Republican Conference has become divided between those who have denounced the former president's false claims about the election and those who have continued to back Trump months after the January 6 Capitol riot. Among the former, most notably, is Cheney, who has become the face of the anti-Trump wing of the party since she joined nine of her GOP colleagues in voting to impeach Trump earlier this year.
"If a prerequisite for leading our conference is continuing to lie to our voters, then Liz is not the best fit," Republican Representative Anthony Gonzalez told The Hill on Friday.
"Liz isn't going to lie to people. Liz is going to say what she believes. She's going to stand on principle. And if that's going to be distracting for folks, she's not the best fit. I wish that weren't the case," Gonzalez added. The Ohio congressman also voted to impeach Trump.
In February, Cheney survived a vote seeking to remove her from party leadership. House Republicans voted by a large margin, 145-61, to allow the highest-ranking Republican woman in Congress to stay on as the GOP conference chair.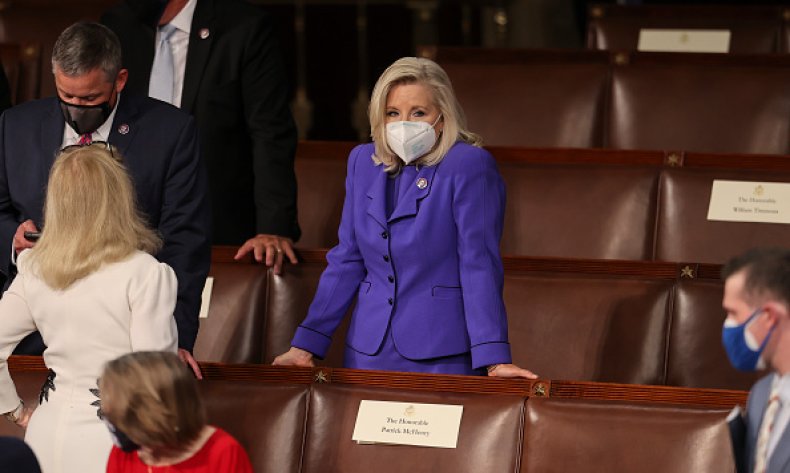 In an attempt to unify the divided factions of his party, House Minority Leader Kevin McCarthy rushed to Cheney's defense and urged members to stick with the congresswoman despite attempts to purge her from her post.
But the Wyoming representative may not survive a second, secret vote now that McCarthy has signaled that he would no longer defend Cheney if anyone tried to force another vote to oust her. Tensions have risen between the Number One and Number Three House Republican, with McCarthy refusing to appear next to Cheney at press conferences in recent months.
McCarthy has suggested that Cheney's attacks on Trump have been a distraction for the party. He's also elevated the controversy by refusing to answer questions about whether Cheney should remain in leadership.
Cheney drew further criticisms last week after she fist-bumped President Joe Biden when he made his way down the aisle of the House chamber to deliver his address to Congress. Cheney defended the move, saying she would respect presidents from the other party, tweeting "We're not sworn enemies; we're Americans."
Cheney has continually been the target of Trump's public statements.
Last Tuesday, the former president said, "Liz Cheney is polling sooo low in Wyoming, and has sooo little support, even from the Wyoming Republican Party, that she is looking for a way out of her Congressional race."
He added, "She'll either be yet another lobbyist or maybe embarrass her family by running for President, in order to save face. This warmongering fool wants to stay in the Middle East and Afghanistan for another 19 years, but doesn't consider the big picture—Russia and China!"
Newsweek reached out to Trump's team for comment but did not hear back before publication.