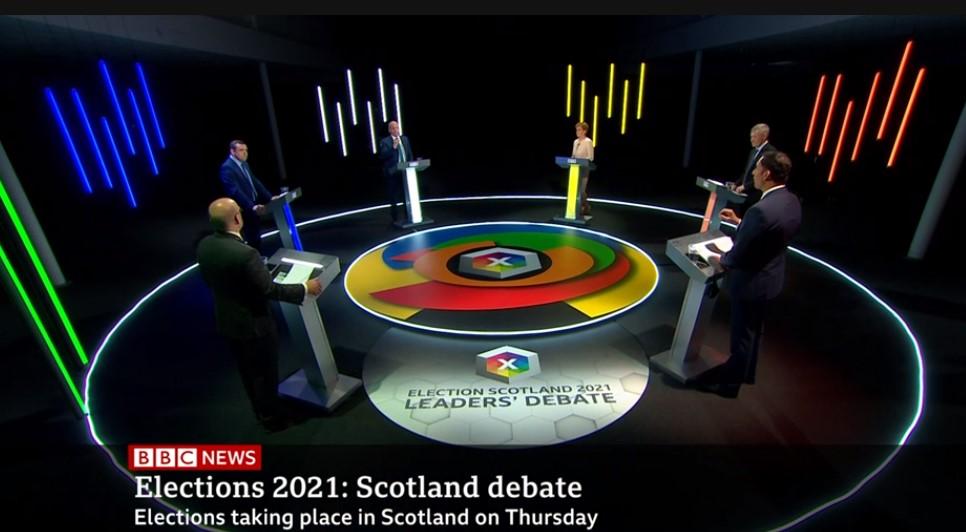 Quizzed on Scotland's exit from lockdown in tonight's BBC TV leaders' debate, Ms Sturgeon said a decision had not yet been taken on foreign travel, but stressed it would be one of the first made by the country's leader in the week after Thursday's election.
Ms Sturgeon said she wanted to get international travel "back to normal just as much as I want to get every other aspect of our lives back to normal as quickly as possible", but that it may have to wait "a little bit longer".
The Scottish Government has remained non-committal on any relaxation of restrictions north of the border from May 17, despite Prime Minister Boris Johnson saying there would be "some opening up" in England.
Scottish party leaders debate the Covid recovery on the election's final TV debate. Picture: BBC Scotland
While Ms Sturgeon said easing the restrictions at the same time across all four nations of the UK would be her preference, the First Minister said: "It can't be on any four-nations basis, it has got to be on the right four-nations basis."
Ms Sturgeon added: "I will not go along with something, if I am first minister of course, if it is something I don't think is in the interests of Scotland."
The SNP leader said when things open up again, the focus should be on "family reunification before holidays".
But stressed the need for caution, saying: "We have to protect our progress at home, open up much greater normality domestically, then for a little bit longer it might be restrictions on international travel are the price we have to pay for that."
The SNP have said the position on international travel will be considered in the next Covid review, expected to be announced next Tuesday.
Scottish Labour leader Anas Sarwar said